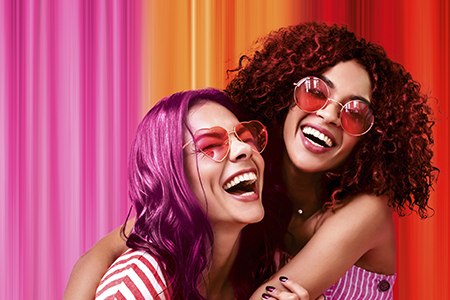 Lubrizol Life Science – Beauty (LLS Beauty) brings long-lasting colour performance to consumers with Chromapol ColorPOP polymer.
The new polymer provides colour protection in permanent, semi-permanent and temporary colours, as well as in shampoos, conditioners and leave-on treatments.
This polymer also maintains a true colour with vibrant tonality and intensity and at the same time it provides conditioning and smoothness benefits to the hair fibre, thus responding to hair colouring consumer concerns.
After speaking to women of different ages who dye their hair and identifying their needs and expectations about protecting their hair colour after dying, LLS Beauty developed Chromapol ColorPOP polymer, offering what women seek.
In testing for permanent coloration, delta E was better than the benchmark with the Chromapol ColorPOP polymer, providing long-lasting colour protection for up to 30 washes and for sulfated shampoo up to 20 washes. Color protection in the semi-permanent collection lasts up to 10 washes and when a sulfate-free shampoo is combined with a conditioner, colour lasts up to 25 washes.
The multifunctional ingredient maintains a true color with vibrant tonality and intensity. It also provides conditioning benefits to the hair fibre, improving wet and dry feel, while restoring softness and smoothness. It works on all shades of hair, including 100% grey.
Chromapol ColorPOP's main benefits and high performance are supported by Lubrizol's polymer expertise on colour deposition and film-forming properties, making it an ideal solution for vivid colour and rinse-off products.
Available ready-to-market formulations include:
· Permanent Hair Color – Intense Dark Red Cherry
· Semi-Permanent Hair Color – Shimmering Pink Orchid Flower
· Sulfate Free Color Care Shampoo
· Color Vibrancy Protecting Conditioner
· Deep Nourishment Color Reviver Temporary Mask – Intense Red Cherry Color