Has 'maskne' changed the way we view our skincare regimes?
Jennifer Hermitage, Market & Application Chemist at Cornelius Group 
Declared as one of 2020's most widespread skin problems by Japanese beauty magazine The Tokyo Weekender1, 'maskne' is a major condition that has either already affected most working professionals or will do in the months to come as non-essential businesses begin to reopen and physical social events get underway. The term, which was coined by dermatologists last year, is caused by the continuous friction of a mask's material on an individual's skin, culminating in a breakout of acne mechanica.  
According to the Journal of the American Academy of Dermatology, almost all (97%) of frontline healthcare workers in Hubei, China reported that skin damage was exacerbated by the prolonged wearing of N95 masks, with approximately 83% stating that the nasal bridge was the most affected area2. And although many cannot avoid the prolonged use of mask wearing in their profession amid the ongoing Covid-19 pandemic, there are several ways to combat skin irritation and acne-induced conditions, including changing the way we look after our skin.  
Why is maskne so common?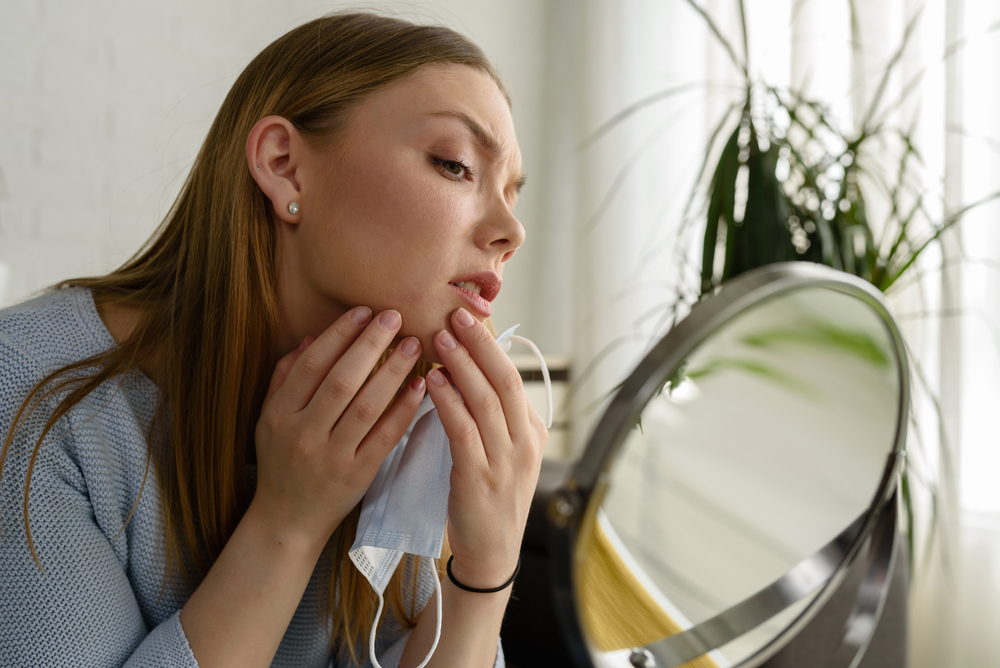 Acne is estimated to affect 9.4% of the global population, making it the eighth most prevalent disease worldwide3. Studies have suggested that stress, diet (such as eating high-sugary foods) and lifestyle can all act as drivers of perpetual acne in both young and older adults4,5. Now, with the pandemic, mental health is at an all-time high. For instance, over half of all EU workers say stress is common in their workplace, while in the US 48% of partners said their level of stress has increased when compared to life before the pandemic6,7. In the UK, the picture is mixed. Only 64% of adults saying that they were coping well with stress in February 2021, compared to 73% in April 20208. With evidence that stress has a strong correlation to acne, wearing masks for a prolonged amount of time just adds to the problem at large.  
Textile-skin friction is a well-known trigger for many dermatological and inflammatory conditions. Alongside acne mechanica, it can also worsen the symptoms of rosacea, folliculitis, atopic and contact dermatitis, as well as seborrheic dermatitis that causes red, flaky, and itchy skin. When a mask is tightly fitted to the face, it can often lead to the blockage of follicular openings, increased sweating and clogged pores, while a lower thread count in fabric masks will cause increased friction to the skin, accelerating the likelihood of developing maskne.  
Preventing maskne with a 'less is more' skincare regime

 
To prevent maskne, dermatological experts have suggested switching to masks that contain natural fibres like cotton, linen, lyocell and silk for greater breathability compared to synthetic fibres, since they remove the build-up of moisture from the skin. Masks that have a built-in filter or pocket are also ideal for acne-prone and sensitive skin too. In light of this, switching to a non-synthetic mask is one of the best options to prevent breakouts. Fabric masks should also be regularly washed and adequately fit the face to prevent unnecessary friction. 
Experts have also recommended using a natural and effective skincare routine that follows the 'less is more' approach. As such, consumers are now looking for a gentle cleanser that contains salicylic, glycolic and lactic acids to exfoliate dead skin cells and remove the debris from clogged pores, without disrupting the skin barrier. Once the skin is thoroughly cleansed, using a light moisturiser that contains ceramides, glycerine, niacinamide or one that's rich in hyaluronic acid can prevent transepidermal water loss (TEWL) and will leave the skin feeling refreshed and silky-smooth. Yet while the advice is to avoid wearing make-up under a mask, those that do wish to wear it should double cleanse with a mild, foam cleanser and use non-comedogenic products where possible.  
A clear solution

 
As a leading European manufacturer and distributor of innovative specialty chemicals and ingredients to the personal care industry, Cornelius Group has ensured that those who have worked tirelessly throughout the pandemic, as well as those with stress-induced flare-ups or persistent inflammatory conditions, have access to the best skincare formulations on the market. To support beauty brands, Cornelius offers several ready-made formulations that work for different skin types. For instance, our comprehensive hygiene and protection kit includes a calm balm for stressed skin to reduce redness and irritation, improve cell cohesion and restore radiance, alongside an ultra-mild and gentle foam cleanser and a protection mist to provide superior cleansing and moisturisation.  
Working with our principal partners, Cornelius supports formulators with a range of natural skin care ingredients. SILAB ingredients, such as PROHYAL+® to boost the production of endogenous hyaluronic acid and FILMEXEL® to protect the skin from harmful exogenous agents, are great in light moisturisers. For formulators that are looking to treat acne-prone skin or maskne, ACNESIUM® from SILAB is a natural, effective and preservative-free powder ingredient that helps to reduce inflammation, inhibit bacterial growth (C.acnes, Quorum sensing), regulate sebum quantity and quality, and reduce the stratum corneum thickness (keratolytic action). ACNESIUM® can be combined with NEUROFENSE®, an overall soothing concentrate derived from the roots of red sage, which acts on the three biological components of skin sensitivity: neuronal hyper-reactivity, quality of the cutaneous barrier and skin inflammation. NEUROFENSE® is designed to relieve sensitive skin and restore comfort and protection. 
Living with maskne

 
Although it is evident that maskne is now part and parcel of our lives, that doesn't mean that consumers should continue to suffer from inflammatory skin conditions day in and day out. There are many natural solutions on the market today that can help to fight infection, reduce inflammation and restore the skin's epidermal barrier. Formulators must choose ingredients that tackle skin care challenges head on, developing solutions that work with all skin types to protect, prevent and purify. As we learn to adapt and live with the virus and its strains, continuing to wear masks to protect others, we must also alter our skincare regime to protect ourselves.  

References
1. Tokyo Weekender, 2020. Accessed: https://www.tokyoweekender.com/2020/06/maskne-japan/
2. Jiajia Lan et al, Journal of the American Academy of Dermatology, Skin Damage among health care workers managing Coronavirus disease, March 2020. 
3. Tan JK, Bhate K. A global perspective on the epidemiology of acne. Br J Dermatol. 2015 Jul;172 Suppl 1:3-12. doi: 10.1111/bjd.13462. PMID: 25597339.
4. Zari, Shadi, and Dana Alrahmani. "The association between stress and acne among female medical students in Jeddah, Saudi Arabia." Clinical, cosmetic and investigational dermatology vol. 10 503-506. 5 Dec. 2017, doi:10.2147/CCID.S148499
5. Penso L, Touvier M, Deschasaux M, et al. Association Between Adult Acne and Dietary Behaviors: Findings From the NutriNet-Santé Prospective Cohort Study. JAMA Dermatol. 2020;156(8):854–862. doi:10.1001/jamadermatol.2020.1602
6. End Stress EU, October 2020. 
7. American Psychological Association, One Year Later, a new wave of pandemic health concerns, March 2021.
8. Mental Health Foundation, Pandemic one year on, March 2021.